Housing Services

WAMY's housing program works with low-income families to make their homes safer and more  energy efficient.  We have programs that can provide minor repairs and rehabilitation to homes owned by low-income families in Watauga, Avery, Mitchell and Yancey Counties.  This program can fix a leaking roof, repair plumbing or electrical hazards or other health and safety hazards.  The repair and rehabilitation program is only available to homeowners and structures must be site built homes or mobile homes on a permanent foundation. 
WAMY also has a weatherization program in all four counties that works to make homes more energy efficient, usually through the installation of insulation, air sealing and duct sealing. This program is available to both homeowners and renters with landlord permission.  After receiving weatherization, families typically save 30%-35% on their heating/cooling costs.  
Our Heating and Air Repair and Replacement program is also available in all four counties to both homeowners and renters.  This program allows us to evaluate and clean your heating system and we may even replace it if necessary. 
Eligibility for these programs is based on the families' income.  To see if you qualify, please complete the application below.  Completed applications may be mailed to 225 Birch Street, Suite 2, Boone, NC  28607.
If your home needs repairs, is drafty, hard to heat or cool, or if you have high energy bills, WAMY may be able to help! 
To qualify for the program, your family must be below 200% of poverty.  See chart below.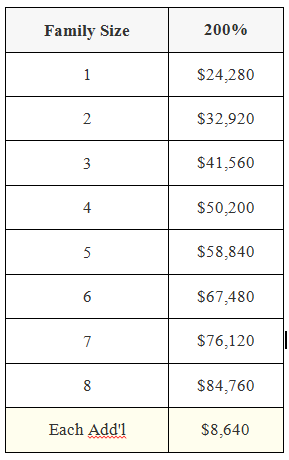 Please complete this application for all of our Housing and Energy Program services