Newsroom
Impacting the Community through One Person
The Gardening program is a great benefit to many Mitchell County Residents. It enables families to enjoy the fruits of organic gardening during a time when many are concerned with dangerous food additives.
One resident is a 90 year old female that stays healthy and active by engaging in the physical activity of gardening. She has grown an abundant garden for as many years as she can remember. She is a master gardener and can grow enough to provide for her extended family and neighbors as well in a small plot. Recently this year, she had to move closer to her daughter, and has challenged herself to make a garden there even better.
She is also a great mentor with all the grandkids and neighbors. She is teaching them the lost art of gardening and canning, as she loves to can and freeze all the produce.
Her daughter has commented that the gardening project is what keeps her going. She feels productive and useful as she helps herself and gives back to the community.
Without the garden voucher this lady would not be able to provide this valuable resource, as she lives on a fixed income. This one voucher helps her and her family, as well as many others within the community.
Improvements in Avery YO! Participants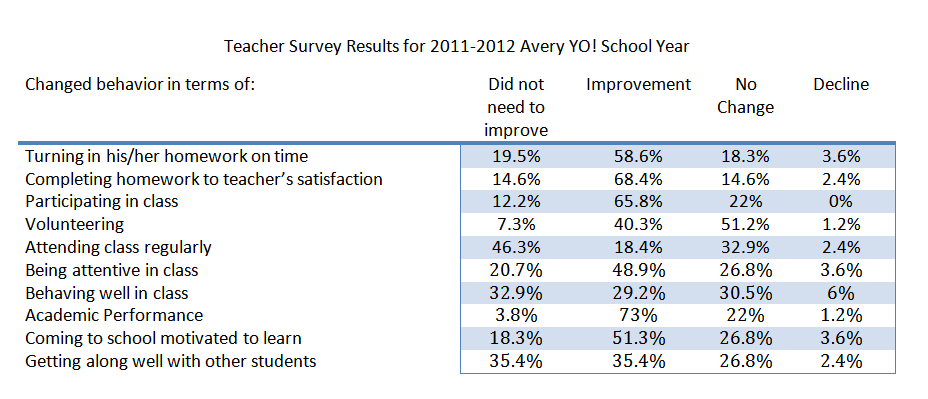 Study on the effects of Weatherization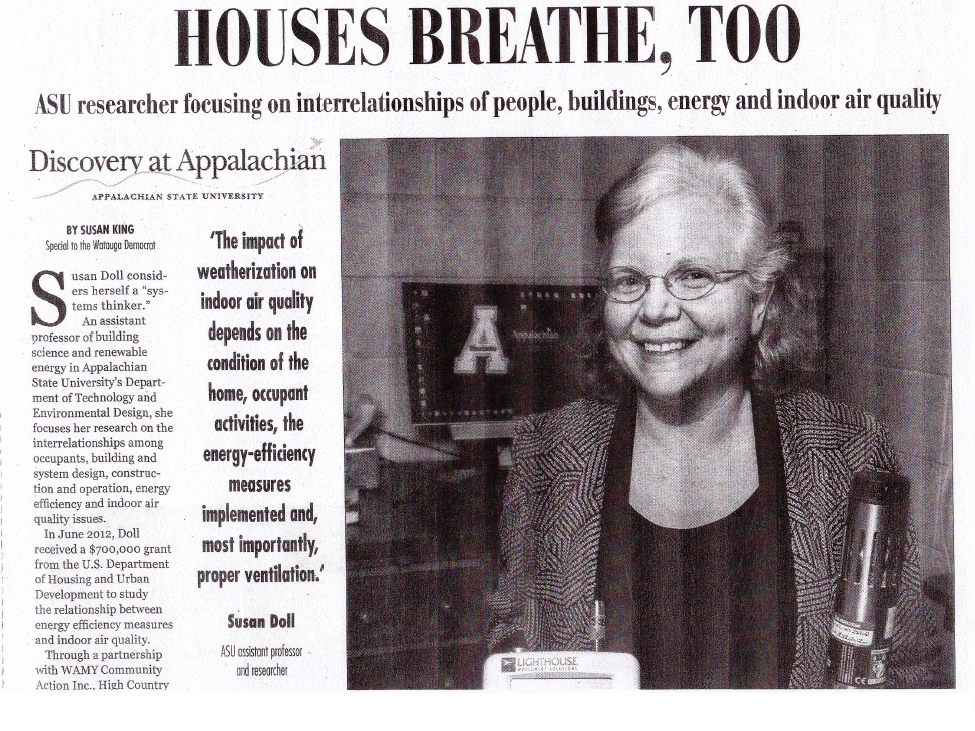 From A Past WAMY Employee
I just heard the greatest story of determination and ambition. I received a phone call from Ernie McDaniel. He lives in Mitchell County and wanted to call and let us know how important WAMY has been in his life.
Back in 2002, Ernie and his wife both found themselves unemployed. They were eligible for unemployment insurance and decided to continue their education through the Trade Readjustment Act. They were trying to pay for a home, insurance and were raising a three year old child. Desperate, they asked several agencies for help but kept falling through the cracks. Finally, they were referred to Betty Whitson in the Burnsville WAMY office. Betty enrolled them into the Total Family Development program and things began looking up.
She assessed the family's situation and immediately put things into action. She arranged for WAMY's Weatherization program to do some work on their home, including installing a new monitor heater, she purchased food for the family and helped with clothes for their child. Later that year, Ernie's wife was diagnosed with breast cancer. Because she was not able to work, she lost her unemployment insurance and they were down to one unemployment check each week. When Ms. Whitson realized that Ernie was having to leave his sick wife to go to the library to use the computer for homework, she found the funds to purchase a computer for him to use at home. When their tires were bald and driving on them was treacherous, she was able to get them some tires. No matter what obstacles were in their way, neither Ernie nor WAMY would give up.
In 2003, Ms. Whitson suffered a stroke and had to leave work. Her predecessor, Katherine Whitson, picked up where Betty left off and continued working with the family. Despite ongoing chemo and radiation treatments, Ernie's wife persevered in school and was able to graduate with honors in 2004. She passed away that same year, three days before Christmas. Ernie continued in school and received two degrees as well as an Academic Excellence award for the state of NC. According to Ernie, WAMY "took care of them like one of their own."
This is a wonderful story, and one of many that WAMY hears every day. Our programs are not entitlement programs. We work to help those that are truly ready to help themselves. For almost 50 years, WAMY has been helping families become self-sufficient; and, like Ernie, we will never give up.